Winner - Rally di Sardegna 2009

Latest news
21 June 2019

The Ktm Alchemist Dama elite wins 4 out of 5 stages and wins the 2019 edition of the Rally di Sardegna.
20 June 2019
SAMPARISI REGAINS HIS POSITION AND WINS ALSO THE FOURTH STAGE
19 June 2019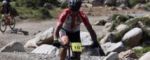 Arzana (NU). It is the Sardinian Paolo Baduena, leader among the Over 40s, to establish himself in the third stage of the 8th Rally di Sardegna MTB.